Interested in a career in Materials Science and Engineering (MSE)? There are plenty of ways to get into it.

Materials Science and Engineering degrees can combine chemistry, biology, physics, design and technology to help us understand how materials work and can lead to many fantastic career opportunities.
Further study
There are many, varied undergraduate university courses in Materials Science and Engineering. Please check out the UCAS page to find out more about MSE courses. The graphic below shows a selection of courses offered by the universities in the Discover Materials group.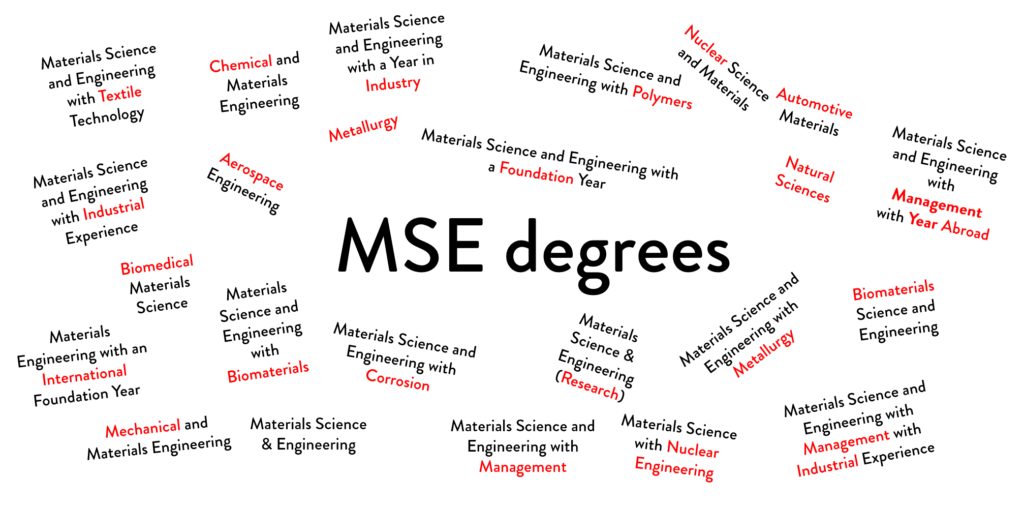 Summer Schools and Project Placements
Summer Schools and taster sessions often help you explore different and less well known courses.
Ask our ambassadors
We have a network of Discover Materials Ambassadors who have discovered Materials Science and Engineering via many different routes.
Why not visit the Discover Materials Ambassador index page where you can learn why our ambassadors love the area, what they studied at school (not all of them did the 'classic' combination of maths, physics and chemistry at A-level), and find out what they are doing now.
Any Questions?
Please feel free to email us at info@discovermaterials.uk to ask us questions about careers in Materials Science and Engineering and we will do our best to help you.
Links