CoCoBioMater Bag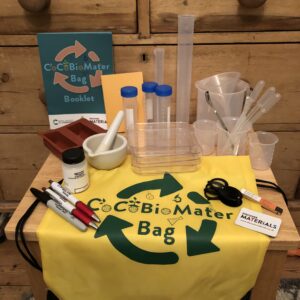 Duri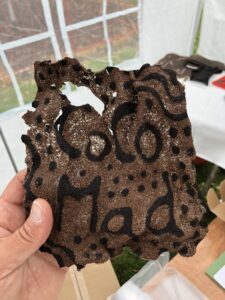 ng the Summer of 2022 the CoCoMAD Festival returned to Cotteridge Park and where we launched our CoCoBioMater Bag project.
The project involved the development of a booklet (scroll to the end to download the booklet) that introduces 11-14 year olds to bioplastics (and the circular economy) and provides them with a bag of their very own science kit with which they could make their first bioplastic from sodium alginate (from seaweed), vinegar and other additives that they want to include such as crushed up eggshell.
The step-by-step guide to making their first bioplastic was taken from the Materiom website (an open source 'recipe book' of bioplastics developed by people from all over the world).
At the CoCoMAD festival we ran a slime making activity to engaged potential bag holders whilst we introduced the project to them and their parent and Zoe Powell Best made some fantastic bioplastics to inspire their imagination.
We ran drop in sessions in Cotteridge Park over the summer at which we distributed more bags including to homeschool teachers who were very keen to get involved with the project.
In total we distributed 154 CoCoBioMater Bags,  which were also distributed at the Sci Fest festival at the University of Wolverhampton.
We are now developing a version to lend to schools or community groups which includes all of the glassware, sodium alginate and vinegar needed to inspire groups of bioplastic innovators.
The project was funded by the Royal Society of Chemistry's Outreach Fund who also funded our CoCoMicroBox project (a project that involves investigating the microscopic world around us and how materials are made from the atomic level up).
Interested in making your own bioplastics at home?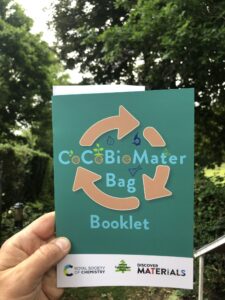 Download the booklet we developed to include in the CoCoBioMater Bag HERE  (please note this is the version the was included in the bag and makes reference to te CoCoMAD Festival and the items included in the bag – there is a more generic version being developed).
An equipment list (and where to buy the kit) will be available soon……
Find out more about bioplastics and the circular economy from Zoe Powell Best – click here to watch her video.