Nick Weston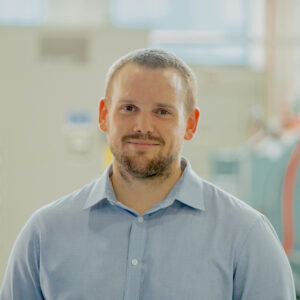 What is your current job/programme of study?
Postdoctoral Research Associate in Advanced Metals Processing  
What A-Levels (or equivalent) did you do?
Maths, Physics, Chemistry (+AS-Levels in History + Further Maths) 
Why did you choose a career in Materials Science and Engineering (MSE)?
I discovered my enthusiasm for MSE through my undergraduate degree and I secured the opportunity to continue in the discipline by obtaining a place to study for a PhD in the EPSRC Advanced Metallic Systems Centre for Doctoral Training. My PhD research focussed on the low-cost processing of titanium alloys, which got me hooked on metallurgy. I've since done several postdoc positions on advanced metals processing, and I'm hoping to continue working in MSE in academia. 
What undergraduate degree did you do?
My undergraduate degree was an MEng in Aerospace Engineering. There were a couple of modules on aerospace materials, which I really enjoyed. I was hooked by the fact that materials' properties and processing underpinned the performance and possibilities of many other aspects of aerospace engineering that we studied.  
What is your research about?
My research is about trying to make affordable titanium alloy components, such as parts for car engines, to help tackle the climate emergency. Titanium is as strong a steel, but weighs 40% less, which means making things like cars, planes, trains, and buses out of it allows them to use less fuel and emit less CO2. However, titanium is currently so expensive that it rarely gets used in these applications. I use Field Assisted Sintering Technology (FAST) to recycle scrap titanium into new products. FAST consolidates materials contained in a graphite mould by applying load and heat. The heat is created by an electric current flowing directly through the mould and material, which causes Joule heating (like a light bulb). Using this low-cost waste material as a feedstock in an energy-efficient manufacturing process allows me to create affordable titanium components.  
What is the coolest thing you have done in your career so far? 
I once got to talk about my research in a live BBC radio interview 
What do you see yourself doing in the future?
I hope to win a research fellowship to continue my career in MSE and to start building my own independent team to investigate the use of FAST on advanced metals processing. 
What is your favourite material (and why)?
It has to be titanium, as that's where it all began for me – I even got my wedding ring made out of it. 
What advice would you give your 16 year old self?
To not be afraid to stand out from the crowd, and to seek out opportunities as they rarely come knocking on your door.   
Links to Nick's external webpages:
www.sheffield.ac.uk/materials/people/research-staff/nick-weston 
Twitter: @Nick_le_Ti